Print Friendly Version
Check your settings when you are happy with your print preview press the print icon below.
Show Obituaries Show Guestbook Show Photos QR Code

Print
May 1, 1966 - August 5, 2020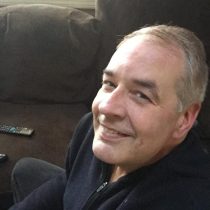 Funeral Home Service: Saturday, August 22nd 1:00 p.m.
Interment to follow in Lake Grove Cemetery
*Please note, Mr. Thum passed away on November 19, 2019, but in order to bring his obituary to the top of the page, we needed to add a more recent date. Services are now announced.
Share your Memorial with Family & Friends
*Please note, Mr. Thum passed away on November 19, 2019, but in order to bring his obituary to the top of the page, we needed to add a more recent date. Services are now announced.
Stephan Thum was born on May 1, 1966 at 5am in Queens, NY to Helga and Dieter Thum.
Dieter and Helga moved their young family from New York to Massachusetts in October 1969. 
Stephan was a proud New Englander and NOT a morning person. In his defense, he had a 
brilliant, busy mind that needed some time to adjust from ether to real world mode. A requisite 
two cups of coffee were needed before engaging Stephan most mornings. His growing years 
were spent in Framingham and Holliston where his mother and father raised him till he left for 
school at UMASS Amherst in August 1984.   
His proudest accomplishments were raising two talented sons, who had "musically eclipsed" 
him by the time they were in High School (Willem and Nolan were playing professional gigs in 
the community), at age 50, caring for his preemie newborn who measured in the 50
th
percentile 
for height and weight to the 90
th
percentile in two weeks,  and of course being part of the team 
that built the Fidelity trading tool from the ground up. 
Stephan was an intuitive and natural born engineer and leader. From a young age, one of his 
favorite things to do was take something apart and put it back together. This kind of "tinkering" 
he shared with Willem, Nolan and Rudy.  Stephan was also passionate about music. A gifted 
baritone saxophone player, he could call out all the different instruments whether it was in a 
melody, harmony or rhythm section and comment on the role they were playing in a piece in 
order to craft a certain mood or "motif." Stephan felt that music had two roles, to lift you out of 
your reality or to make you feel it more intensely.  This "talent" to deconstruct musical pieces 
would later play a key role in his professional career when tasked with organizing teams and 
architecting technologies to plan out and unite edifices, both physical and belief based to create 
a tool that would make Fidelity the pioneer in providing the home user with a Wall Street trader 
experience, not just in America, but globally.  How does one unite disparate and oppositional 
features and pieces in resolution?  You create a song. 
Stephan was a very observant and compassionate person.  His ability to lead was rooted in his 
ability to inspire and move others to use their talents beyond their own normal.  Failures were 
merely pain points that contained lessons to drive the work further and more efficiently, 
providing the guidance to eliminate the unnecessary while better targeting the necessary.  His 
genuine love for people was only enhanced by the vision he had for Greatness. 
Stephan leaves behind the following family members:
Widow, Kim Christensen and son, Rutger Wolfgang Christensen Thum
,
First wife, Nancy Thum and sons, Willem Spencer Thum and Nolan Dieter Thum.
Eldest Brother
Michael Thum
,
younger brother, Peter Thum and nephew, Nicholas Thum and nieces, Stephanie Thum and Christiana Thum and their moms, Kate Barrett and Megan Thum, respectively.
Youngest Sister, Claudia Christina Thum and niece, Alexandra Josefina Thum.
A funeral service will be held on Saturday, August 22nd at 1:00 p.m. at the Chesmore Funeral Home of Holliston, 854 Washington St. www.ChesmoreFuneralhome.com Interment will follow in Lake Grove Cemetery.