Print Friendly Version
Check your settings when you are happy with your print preview press the print icon below.
Show Obituaries Show Guestbook Show Photos QR Code

Print
August 1, 2022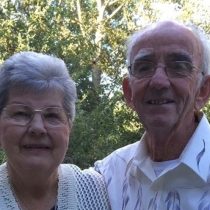 Graveside Service: Saturday, August 13th 11:00 a.m. Lake Grove Cemetery, Holliston
Reception to follow at the Medway VFW
*Please note, Mr. Harper and Mrs. Harper did not pass on August 1st, we had to post the date to bring it to the top of our feed.
Share your Memorial with Family & Friends
Robert Daniel Harper, Sr. and Loretta Ann (Charles) Harper-
Robert Daniel Harper, Sr. of Port Charlotte, FL passed away peacefully on June 4, 2022, at the age of 92, surrounded by his loved ones. Robert was predeceased by his beloved wife Loretta Ann (Charles) Harper who passed away peacefully on October 3, 2020, surrounded by her loving family. Robert, often known as Bob, was born in Natick, MA, the second oldest of seven children. Loretta, often known as Lorrie, was born in Natick, MA, one of 12 children growing up in Holliston, MA.
Bob served in the United States Army as a Corporal from March 8, 1951 to February 2, 1953, transferring to the Army Reserves February 3, 1953 to February 28, 1957. Bob worked as a machinist in Holliston, MA for the Valpey Fisher Corporation, Valpey Crystals Corporation and later for Pegasus, inc. Bob was an avid antique enthusiast, both collecting and selling all kinds of antiquities, from furniture & tools to bottles & glassware. Bob enjoyed going to yard sales every weekend, as well as having his own barn sales at his Milford, MA home.
Lorrie worked as a switchboard operator for the phone company during high school and after graduating from Holliston High School in 1953. Bob & Lorrie were married on October 9, 1954, in Holliston, MA. They loved to country line dance together and were beautiful to watch. They taught line dance lessons at the clubhouse when they lived at Vizcaya Lakes in Port Charlotte, FL. Bob was a talented woodworker, making miniature bureaus for each of his children. Lorrie was a very talented, crafty, artistic woman who created many pieces over the years in a variety of textiles.
Bob and Lorrie lived in Milford, MA for 33 years prior to moving to Port Charlotte, FL in 2012, but always considered themselves "Hollistonians" at heart, since Holliston, MA was their childhood town as well as where they raised their four children, before moving to Milford in 1980. Lorrie was a devoted wife who assisted her husband Bob with his antiques for many decades, and cared for him in her final years before making her transition. Family was very important to Bob and Lorrie and they enjoyed spending time with their children, grandchildren and great grandchildren.
They are survived by their four children, Deborah (Harper) Smith and her husband, Steve of Millville, MA, Linda Harper and her wife, Karen Berger of Port Charlotte, FL, Robert Harper, Jr. and his wife, Cyndi of Louisberg, NC and Christine Harper and her partner, Shane of Winchendon, MA, beloved grandchildren Loretta (Koshivaki) Lamont, Shawn Smith, James Koshivaki, Robert Harper III, Elena Koshivaki, Jillian (Harper) Bartley, Sarah (Harper) Boelig, Lindsay Koshivaki and Taylor Harper, beloved great grandchildren Anthony Smith, Katherine Wheeler, Casey Wheeler, Eddie Bartley, Abigail Tosches, Mila Smith, Emily Bartley, Sylvia Lamont, Kylie Bradford Koshivaki, Aubrey Harper, Michael Koshivaki, Julia Koshivaki, Alexa (Denny) Koshivaki, James Koshivaki, Mercedes Harper, and Savannah Boelig. Bob is survived by his half-brothers Philip Harper & Jerry Harper. Lorrie is survived by her sisters Virginia (Charles) Martz, Cynthia (Charles) Grudak and Anita (Charles) Toubeau. Bob is predeceased by his father Lindsey Harper and mother Jessie (Godsoe) Cornish, brothers Charles Harper, William Harper, Joseph Harper, and half-brother Daniel Harper. Lorrie is predeceased by her father Harold Charles, mother Louise (Robicheau) Charles, brothers Harold Charles, Merwin Charles and Everett Charles, sisters Lillian Charles, Dorothy (Charles) Spalding, Beverly (Charles) Carpenter, Lois (Charles) Indelicato, and Joyce Charles. They are both predeceased by their beloved granddaughter Jesica (Smith) Tosches.
Family and friends are invited to a graveside service for both Bob and Lorrie at the Lake Grove Cemetery of Holiston, (use 1450 Highland St. on GPS) on August 13th at 11:00am followed by a reception at The Medway VFW, 123 Holliston St, Medway, MA 02053.