Print Friendly Version
Check your settings when you are happy with your print preview press the print icon below.
Show Obituaries Show Guestbook Show Photos QR Code

Print
April 25, 2007 - September 1, 2020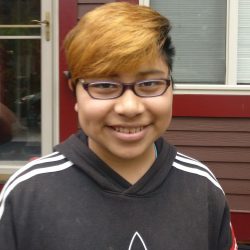 Visitation: Sunday, September 6th 12:30 – 2:30 p.m. Chesmore Funeral Home of Hopkinton
Funeral Service: Following visitation at 3:00 p.m. Mt. Auburn Cemetery, Hopkinton 
*Please note, facial coverings must be worn and social distancing must be adhered to. 
*There will be comfort dogs available at the visitation

Add A Condolence / Photo Album
Posted by:
KT
Posted on:
September 12, 2020
I knew Mason because his brother was one of my classmates. I remember him as a kindhearted, open-minded, and a kid full of creativity. He was simply amazing in every way possible. Going through so much in his life, I cannot say that he was such an incredibly brave young man. He may not be with us, but he\'ll be remembered, Greatly he was one of the kindest kids I knew. I know that he\'ll never be forgotten because of that. His smile lightened the room. I am writing my condolences to anyone who knew Mason and his family. I am so incredibly sorry for their loss and it has defintally made me a little teary, a little upset. I want the Lee family to know that he will be missed, greatly. He is sincerely the kindest and sweetest boy, and I hope when he\'s with the Angels, he\'ll fly high. I sadly could not go to the funeral, but I hope to visit him by his grave sometime. He will be missed. Mason, may you rest in peace. On the first day of school if possible, please #wearblueformason?.
Posted by:
JCS
Posted on:
September 9, 2020
I don't know you Mason but you and your family and friends are in my thoughts and prayers. May we all learn something from this tragic loss... be kind to one another no matter what, we are all human and simply doing the best we can. RIP
Posted by:
Caitlin MacDonald
Posted on:
September 6, 2020
I remember Mason's easy smile and pleasant nature during 5th grade clarinet lessons. He and Janine were always in cahoots, giggling and rocking out in the clarinet section. I am so sorry for your loss and I have you in my thoughts and prayers.
Posted by:
Anonymous
Posted on:
September 6, 2020
May your memories always be a source of blessing to you. I am dreadfully sorry for your tragic loss.
Posted by:
Matt Holzapfel
Posted on:
September 5, 2020
I am so terribly sorry for your loss. My heart and condolences are with your family during this challenging time.
Posted by:
Jane Moores
Posted on:
September 5, 2020
Mason, We only got to meet you recently as we talked about your new puppy ginger (Duka). You were a sweet and gentle soul. Though we only spoke briefly, you interacted with poise beyond your years and stood out in our minds. We were looking forward to getting to know you and Ginger better at the doggy park in the coming months. Words can not adequately express our condolences for your family as they begin the long and painful journey ahead of them. You will be missed. Jane and Lynn (and Benny too) 8 Whispering Pines
Posted by:
Melissa Campbell
Posted on:
September 4, 2020
Andy and family, I am very sorry for this tragic loss of your beautiful child. It is heartbreaking. My Deepest Condolences, Melissa Campbell
Posted by:
Whitney Retallic, OUT MetroWest
Posted on:
September 3, 2020
Everyone at OUT MetroWest is holding Mason's family, friends, and all who knew and loved him in our hearts. We see and celebrate Mason for the amazing person he was. We offer light, love, and our steadfast commitment to supporting our local youth--to let them know they are not alone.
Posted by:
Pam & Janine Brentana
Posted on:
September 3, 2020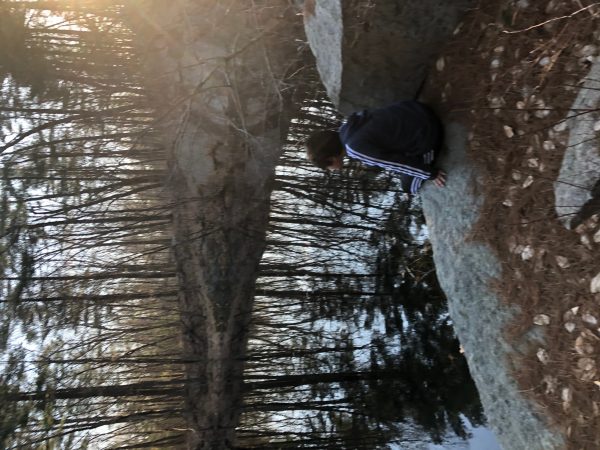 On an afterschool biking trip along the Milford trail, when Mason & Janine went off the path to explore the Milford quarries (Janine's dad was there keeping a watchful eye on them), Janine captured this quiet moment. Two days later school shut down for COVID, and Janine did not get to see Mason for awhile, so she's very grateful they got to spend some time together last week.
Posted by:
Georgia Hall
Posted on:
September 3, 2020
We are so sorry for the loss of Mason (Jennifer). He/She was a beautiful young person. We are full of memories of our time spent together each weekday morning a few short years ago waiting for the school bus. We engaged in so many badminton games, frisbee, and other keep-us-busy activities as we waited for signs of the yellow bus. Such a loving caretaker of the guinea pig - who also came to wait for the bus sometimes. May the love of family, friends, and neighbors surround you all during this difficult time and know that we are keeping you in our thoughts each day and treasure the memories of your wonderful child. Love Georgia, Charissa, Jordyn, Tory, and Denali (Yoda Ears)
Posted by:
Heather
Posted on:
September 3, 2020
The Moms in Prayer group of Hopkinton is holding your family in prayer during this most difficult time. The Lord is close to the broken-hearted!
Posted by:
Betsy and Bruce Tannenbaum
Posted on:
September 3, 2020
No words can describe how sorry we are for your loss. Thinking of you and your family during this difficult time.
Posted by:
Laura Garcia Hacek
Posted on:
September 3, 2020
Mason, we will deeply miss you sweet angel. We pray for your eternal rest in God's divine grace as He welcomes you in His loving arms. Andy, Kim, and Gabriel words cannot express our heart filled sorrow. We are so sorry for your loss. He was a beautiful soul. Know that we carry you in our hearts and prayer and ask the Lord to cover you with his love at this time. God be with you all at this difficult time. Please let us know if there is anything we can do to support you. With love, Laura, Jeff, Sam, and JJ.
Posted by:
AMY PARKER
Posted on:
September 2, 2020
Andy - I am so sad for you and your whole family. No one should experience this kind of loss. My heartfelt condolences. Amy Parker Endeca Alum
Posted by:
Anonymous
Posted on:
September 2, 2020
I am so deeply sorry for your loss. Condolences to you and your family.
Posted by:
Cynthia Moore
Posted on:
September 2, 2020
My dearest friends, "There is one invisible bridge for every one of us and death is the first step of it. On this side, there is life where there are questions and fear but on that other side of that bridge, there is a whole new world full of answers and peace."* I hope that in the days ahead you are comforted knowing Mason can see how much love is here in our hearts holding the memories and is at peace forever more. Please accept our deepest condolences on the loss of your magnificent child. Much love, Cyndi & Bo *Viraj J. Mahajan