Print Friendly Version
Check your settings when you are happy with your print preview press the print icon below.
Show Obituaries Show Guestbook Show Photos QR Code

Print
December 19, 1931 - August 10, 2018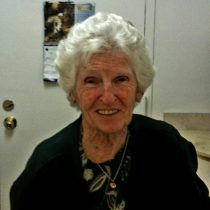 Visitation: Friday, August 17th 4:00-8:00 p.m. at St. Theresa of Lisieux Parish, Sherborn. (Please note, visitation is not at the funeral home)
Funeral Mass: Saturday, August 18th 10:00 a.m. at St. Theresa of Lisieux Parish
Share your Memorial with Family & Friends
MARCIA B. AUCOIN: A VIBRANT PRESENCE AS A WIFE, MOTHER, COACH, TRAVEL AGENT
 Marcia B. Aucoin was such an unstoppable dynamo that neither double knee replacement surgery nor the approach of her 80th birthday could prevent her from walking 13 miles in a fund-raiser to combat breast cancer.
     But that feat surprised no one who had watched Marcia embrace challenge after challenge during a remarkable life that ended Aug. 10 in her daughter Denise's Sherborn home at age 86.
     To Marcia, optimism and realism were one and the same. She was no Pollyanna, but she just didn't get the point of pessimism. Why waste precious time indulging in a self-defeating outlook? So a fundamental cheerfulness defined Marcia in all of her endeavors.
     That cheerfulness was coupled with an infinite kindness, strength, and generosity of spirit. If anyone was troubled, lonely, insecure, or in need, they had an instant friend in Marcia Aucoin. In word and deed, Marcia went out of her way to affirm the intrinsic worth of everyone she met.
     To Marcia, motherhood was not a spectator sport. If it was snowing outside, even at night, she would tell her six children it was time to go sledding on a nearby hill – and she was known to hop on the sled herself. When the family went to the Cape or Maine's Sebago Lake on vacation, she happily allowed kids – even some that didn't belong to her — to use her shoulders as a diving board. Later, she mobilized her legendary energy on behalf of her seven grandchildren, in all of whose lives she played a crucial role.
     Her indispensable partner throughout it all was her beloved husband, J. Albert Aucoin, known as Al, a longtime executive at General Motors in Framingham who died in 2011.
     As personalities, Al and Marcia were polar opposites. He was as quiet as she was outgoing. But they clicked together as a couple from the moment they met in the early 1950s. They married in 1954 and moved to Framingham, where the family lived before moving to Ashland in 1965.
      A natural leader, Marcia had served as president of the Catholic Women's Club in Framingham while still in her 20s. In her 40s, as the indefatigable coach of the cheerleading squad at Ashland High School, Marcia devoted herself to boosting the confidence of her teenage charges and ensuring that "her girls'' were accorded the respect other athletes received. In her mid-50s, an age when many begin to contemplate retirement, she embarked on a brand-new career as a travel agent — making such a success of it that she eventually started her own agency. Thanks to that career, Marcia and her husband Al traveled widely and often, to destinations that included Ireland, Australia, Alaska, and New Zealand.
     To her children she imparted countless life lessons, often centering on the twin ideas of responsibility and gratitude. Never forget those who are struggling, she would tell them. Do not take your own good fortune for granted. And, crucially, when someone helps you in any way, "Never forget to say thank you.'' This was more than an etiquette lesson; it was a reflection of her deep-seated, often-expressed gratitude for the gift of simply being in the world. To her grandchildren, she was a font of impish aphorisms such as: "Dessert is always the most important meal, and no one can tell you differently.''
      Marcia made it her business, day by day, to shine a light into her world. Now that her own days have come to an end, a vital part of her legacy is the large number of people who were inspired to be a little less cynical, a little more caring, a little bit better because they knew her.
     Marcia is survived by her three sons, Don (Carol), of Medfield; Doug (Wendy), of Highland, N.Y.; Jim (Rakela), of Framingham; and her three daughters, Michelle, of Franklin; Denise (the late Joseph C. Barry), of Sherborn; and Suzanne (James), of Melbourne Beach, Florida. She is also survived by her adored grandchildren Yael, Matt, Christine, Brad, Allie, Bethany, and Jocelyn. She also leaves numerous siblings, nieces, and nephews.
     Both the wake and the funeral will be held in St. Theresa of Lisieux Parish in Sherborn. The wake will take place at the church on Friday, Aug. 17, from 4 p.m. to 8 p.m. The funeral will be held at the church at 10 a.m. on Saturday, Aug. 18.
     In lieu of flowers, memorial donations can be made to VNA Hospice & Palliative Care, Fund Development Office, 199 Rosewood Drive, Suite 180, Danvers MA 01923. Arrangements are under the care of the Chesmore Funeral Home of Holliston. www.ChesmoreFuneralHome.com