Print Friendly Version
Check your settings when you are happy with your print preview press the print icon below.
Show Obituaries Show Guestbook Show Photos QR Code

Print
September 4, 1953 - July 17, 2022
Share your Memorial with Family & Friends

Add A Condolence / Photo Album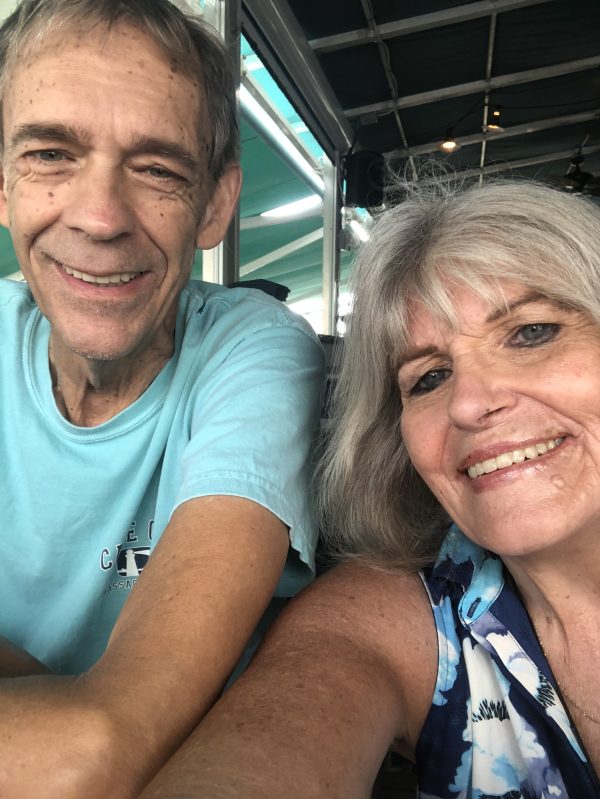 It was taken at Myrtle Beach South Carolina we were having a wonderful brunch by the Pier with longtime close friends drinking bloody Mary's & waiting for brunch to be served I have such beautiful special memories of the vacation we were able to sneek off alone without bringing the grandkids 😅👍👍👍👍 this was taken after Ken had his major life changing -3 hour cancer surgery a vacation Ken so very well deserved & needed ♥️♥️
Posted by Mary on July 24, 2022
My heart totally ripped apart a week ago as I held you in my arms and rested your head on my lap I will never ever forget as you looked at me and slowly closed your eyes . I knew right then you were at peace and Ashley & your Mother & Your uncle Ralph were there to bring you home eternally 🙏 Ken You were so determined to fight a long courageous Battle with cancer. I was definitely there know matter what to take care of you non stop for a little over 3 years damn we were so hopeful that you were going to keep fighting this new treatment this past week . I could see you were getting weaker & tired your last couple days . I'm totally lost without you I haven't stopped crying since that moment you took your last breath & peacefully passed and put your head onto my lap😢. Thank you for the 38 years and some rocky roads together but through it all we were there for each other till the end♥️💔. I just found your letter you had hidden that you had written to Macayla & I Omg I cried and cried . You told me you had hidden it and not to open it till it was time 😠 you know how many piles & piles of papers I had to go through then all of a sudden your letter had slipped out of my hand while I was holding a armful I know that was a sign from you 👍 finding that was like looking for a needle in a haystack. I will alway hold you in my heart and the beautiful happiest memories also especially our get away the past two years down south just you & I . Also the most happiest of our lives watching the miracle of our 2 beautiful daughters birth's We certainly had beautiful Offspring daughter's ♥️ . You were such a dedicated father to both Ashley & Macayla you were such a child at heart watching you interacted playing with them . When both girls became moms and we turned into grandparents you absolutely adored all 4 grandkids the Love little Lucas and the tight bond you and he had Lucas adored you immensely. My heart will totally be broken especially seeing him miss you cause you were the specialist person in his life 💔♥️. I'm sure my time will be coming next and I can't wait for all of us to be reunited together for eternity. Until then I am totally lost without you especially after sing together for almost:8 years . And I'm definitely sure Macayla will definitely feel the same . Please don't come and spook or haunt us like we were joking about early last week 😱🤣. Sorry I wrote on your time line but I'm sure you definitely wanted everyone to play your favorite son by Lynyrd Skynyrd Free Bird and light a candle in your memory🕯♥️ BTW Jeofrey paid a beautiful tribute for you I also posted that on your time line cause he did such a remarkable job playing and singing free bird he dedicated it to you & Ashley ♥️♥️. I will always love and keep you tucked into my heart please look over us all god only knows how much we need it I promise I will definitely try and stay strong for Macayla and the grandkids . I know how much it hurt all of you especially that traumatic horrific passing of Ashley I could help myself for all the crying and having to let my tremendous grief out 😭😭 . You & Ashley should definitely come together and make plenty of visits with all of us we definitely will love it & look for those special signs Ashley definitely has been leaving it completely blew me away 😇🕊 especially those orbs flashing a foot off the bedroom floor thinking it's the cat or dog running under our bed , or those two beautiful young red orange cardinal's sitting on that branch in my garden by the living room window the day before you left on your new journey and all of a sudden the hummingbird's flying around our rose of Sharon tree I was complaining to u also how come we haven't seen one this entire spring & summer and there it was right in front of us buzzing around ♥️ Now I gotta keep my eye out looking for two monarch butterflies together ♥️♥️ Then I definitely will know it's you & Ashley visiting 😇😇
Posted by Mary King on July 24, 2022
Please know how sorry I was to read about Ken. He and I worked together in the early 90s. He was fun to work with, always upbeat and his clever wit and friendly demeanor made for a pleasant work environment. I remember Ashley visiting her dad from time to time and it was very nice to have a chance to meet his beautiful family. Again, I am very sorry for your loss.
Posted by Mary Murphy on July 22, 2022