Print Friendly Version
Check your settings when you are happy with your print preview press the print icon below.
Show Obituaries Show Guestbook Show Photos QR Code

Print
September 12, 1961 - November 6, 2022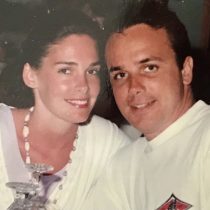 Funeral Mass: Saturday, December 3rd 12:00 p.m. Fatima Shrine, Holliston
Interment: Saturday, December 3rd Saint Mary's Cemetery
Share your Memorial with Family & Friends
Karen A. Perry of Upton, Massachusetts was surrounded by family when she died 
at Brigham & Women's Hospital on November 6, 2022, after a long illness.
Mrs.  Perry was 61 years old. She was born on September 12, 1961 in Philadelphia,
Pennsylvania and was the oldest of three children born to the late Harry F. Bonnet, 
Jr. and Anna Mae (Warren) Bonnet.
Mrs. Perry is also the granddaughter of the late 
William and Kathryn Warren and the late Harry and Rose Bonnet.
Mrs. Perry was a 

1979 Graduate of Abington Senior High School in Abington, Pennsylvania and a 

1983 graduate of Bloomsburg College in Bloomsburg, Pennsylvania, where she 

earned a Bachelor's Degree in Liberal Arts.  

Mrs. Perry married Brian M. Perry on March 23, 1991 in Abington, Pennsylvania. 

They enjoyed a loving marriage of thirty years before Mr. Perry's passing on 

January 19, 2021. Mr. and Mrs. Perry had four adoring children consisting of Brian

Perry, Jr., Connor M. Perry, Quinn P. Perry and Alanna K. Perry, all of whom 

survive her. Mrs. Perry is also survived by her beloved sisters, Pamela Bonnet and 

Linda Bonnet, both of Pennsylvania and her beloved Aunt, Deloris Harris, of 

Ocean City, New Jersey amongst many other cousins and relatives. She is 

survived, as well, by her three brothers in law, Brendan M. Perry, Christopher M. 

Perry and Terance P. Perry.   
Karen A. Perry was a loving mother who doted on her children, husband, parents, 
sisters and extended family. The Perry family enjoyed their collective love of the 
outdoors through the years and spent many Summers in East Falmouth, 
Massachusetts where they enjoyed boating, fishing, barbecuing, going to the beach 
and generally just being with each other. Mrs. Perry and her family were ardent 
lovers of Cape Cod but Mrs. Perry had a special love for the New Jersey shore 
which was quite literally her favorite place on Earth. She spent numerous Summers 
there as a youngster – her parents owned Horsey's Bed & Breakfast there – and 
was always ready, on the drop of a hat, to take a trip the "The Shore." She made 
numerous, life-long friends at "The Shore" and so treasured those relationships. 
She loved walking on the
Boardwalk
and thoroughly enjoyed swimming, the 
beaches and the vibrant culture of that great community. Mrs. Perry also had a 
feverish love of the city of Philadelphia and the great Commonwealth of 
Pennsylvania. She never forgot where she came from and loved to visit her home 
State whenever time permitted. As the locals like to say: "No matter where I am I 
will always be a Philly Girl."       
?
Karen A. Perry enjoyed organized sports throughout her youth including three 
years as a varsity softball pitcher and three years as a member of both the Fall and 
Winter (Winter Guard) Abington High School Galloping Ghosts Marching Band 
(Sabre Division). Mrs. Perry was a member of the 1979 Winter Guard Band which 
finished as State wide runner up to the eventual State champion after a lengthy 
State wide playoff competition. Her father, the late Harry F. Bonnet, Jr., and her 
sister, Pamela Bonnet, traveled around the State that year to see Karen compete in 
the 1979 playoff run. Mrs. Perry was an accomplished high school athlete. She was 
also an avid sports fan of the Philadelphia Eagles, Philadelphia Phillies and 
Philadelphia Flyers. Her family enjoyed their Eagles and Phillies season tickets for 
years. Karen was actually in the stands on October 21, 1980 when the Philadelphia 
Phillies won the World Series. She would have so enjoyed the season that the 
Philadelphia Eagles are having this year (11-1). Her family is hoping that the 
Eagles will be crowned Champion at season's end.        
Mrs. Perry was a great ambassador for kindness throughout her life as it was 
characterized by kind acts, deeds and caring for family members in need of long 
term and specialized homecare. Her family has been struck, in recent days, by the 
outpouring of heartfelt emotion by all those who she touched. Karen A. Perry was 
a selfless person whose devotion to her family is the stuff of legend.  
Mrs. Perry was an avid photographer who turned a hobby into a professional 
endeavor. Literally thousands of her photographs have been utilized in State and 
Federal Court proceedings alike across three decades. Approximately 100 of her 
photographs are located in the archives of the United States Supreme Court as she 
was the photographer of record in a Federal District Court case which was 
appealed there. None of her photographs were ever successfully objected to in any 
legal proceeding. She had a fantastic touch with a camera and was the Perry and 
Bonnet family's photographic historian. These two families will always treasure 
the thousands of pictures she took. We will all miss her great wit and empathetic 
ear. She was a model of grace, dignity and courage for her entire life; but 
especially when her beloved husband died prematurely last year also at age 61.   
A moment in her most recent past illustrates Mrs. Perry's love of life and children. 
She recently sold her house. The most significant part of the sale to her though was 
the family which was about to move into her home. They, like her, had four young 
children. She was incredibly excited about the fact that four young children would 
grow up in her home. Indeed, that was the most important part of the transaction to 
her. Though she had many hobbies and interests the thing that Karen A. Perry liked 
the most was simply just being with family and loving them.    
In lieu of flowers please consider a donation to St. Jude's Hospital or a local food 
pantry. Karen, as was the case with her late husband, Brian M. Perry, was very 
concerned about child hunger in our Nation and World.    
There will be no wake and a service will be conducted at the Fatima Shrine in 
Holliston, Massachusetts on December 3, 2022 at 12:00 PM which will be 
followed by a burial at St. Mary's Cemetery and a luncheon at Mazi's Restaurant in 
Ashland, Massachusetts. There will be a separate celebration in Ocean City, New 
Jersey in July, 2023.     
We thank all those who loved Karen and were kind to her. She will be missed by us 
all.