Print Friendly Version
Check your settings when you are happy with your print preview press the print icon below.
Show Obituaries Show Guestbook Show Photos QR Code

Print
September 7, 1953 - October 29, 2020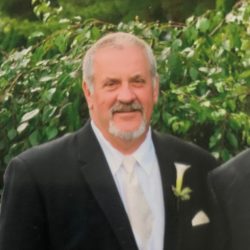 Visitation: Thursday, November 5th 4:00-8:00 p.m. Chesmore Funeral Home of Hopkinton
Funeral Mass: Friday, November 6th 11:00 a.m. Saint John the Evangelist Parish, Hopkinton
Burial: Following mass at Mt. Auburn Cemetery, Hopkinton
*Please note, due to current restrictions, facial masks must be worn and social distancing must be adhered to. Our new expansion provides ample space for social distancing. If you are experiencing any symptoms, we ask that you please do not attend. Funeral Homes do not fall under the category of 10 or less inside, we are still operating at 40% capacity.

Add A Condolence / Photo Album
Posted by:
Dougl and Joanne Hunt
Posted on:
November 12, 2020
Linda, Steve and family, Joanne and I recently heard of Joe's passing and are so saddened. We both commented to each other how much we loved Joe. It seems like yesterday that we were on the football and lacrosse fields with him. As you may know, I always tried to get away from the crowd to watch the games. I ran into Joe many times doing the same thing, and he was one of the few I would spend time talking to during game time. Joe had such a tremendous passion for kids and life in general. What a special person. Hopkinton will never be the same without him. God Bless Joe Kenney.
Posted by:
Greg and Michelle McClure
Posted on:
November 6, 2020
Mrs. Kenney, Steve. Just received word of Joe's passing and our heartfelt condolences to you and the rest of the family. Joe was an exceptional person who we have had the absolute pleasure of knowing these past 14 years. Your tribute captured who he was, how he approached people and his business both professionally and personally. I enjoyed the many conversations we had over the years on multiple topics – practical, honest, noteworthy. Joe is one of those people that one continually and consistently remembers. God Bless.
Posted by:
Cindy Schuberth
Posted on:
November 5, 2020
Linda and family... I am so very sad to learn of Joe's passing. I have fond memories of him being the nicest guys around and watching him Play slow pitch softball. Please except my deepest sympathies and condolences.
Posted by:
Kris and John Corey
Posted on:
November 5, 2020
What a beautifully written tribute to Joe and every bit true. Definitely one in a million and we are so glad we shared so many wonderful times with your family. You are all in our hearts and prayers. Much love, Kris and John
Posted by:
Joanna Poirier
Posted on:
November 5, 2020
I am so sorry Linda for your loss. Sending hugs and comfort to you during this time. If you need anything, please don't forget your MHS Family who loves you and is keeping you and your family in our hearts and prayers.
Posted by:
susan zadorozny
Posted on:
November 4, 2020
To the Kenney Family and Friends I am heart broken and saddened to hear of the passing of my dear sweet cousin Joe. I am one of Joe's Canadian cousins, and it has been my pleasure to have known Joe when we were children, and over the years even though we lived miles apart. He would call me on occasion to check up on me and see how I was doing. As we chatted, and also the times I was fortunate to be in his company, I could tell he was an extraordinarily kind, caring, and fun loving human being. When in his company you knew he listened, he heard you and cared about you. After my husband passed away, he called and asked if I needed anything, and if I was doing ok. He was genuinely concerned, and I am convinced if I told him I was in need even though we were thousands of miles away, he would somehow help me. Joe had a way of making you know that. To Aunt Grace, Sean & Family, Linda, Children, Spouses, Grandchildren and Friends, may you find peace and comfort surrounded by the love and support of each other. Sending all my love and may God Bless everyone.
Posted by:
Kara Manzelli
Posted on:
November 4, 2020
Linda, I am so sorry to hear of Joe's passing. I'm thinking of you and your family in this difficult time.
Posted by:
Jayne Haley
Posted on:
November 4, 2020
Ohhh Linda, you are such a good person. I am so sorry for your loss!
Posted by:
Grace Sheldon Lyons
Posted on:
November 3, 2020
I am so sorry for your loss. Joe was a delight to know. He was an outstanding man who was a kind and generous gentleman. My thoughts and prayers go out to all of you. May God bless you and keep you.
Posted by:
The Calderones
Posted on:
November 3, 2020
Linda and Family -- So very sorry to learn of Joe's passing. It's been a very long time since we've connected, but it saddened our hearts to discover this news. We hope you will find comfort in the support from your family and friends (current and past) to help you get through this difficult time. We remember Joe as a wonderfully friendly guy who loved to watch his kids play lax on the HHS lacrosse fields. God Bless and may Joe Rest in Peace. Sending Prayers and our Sincerest Sympathies, Phil, Deb, Jenna & Philip Calderone
Posted by:
Cheryl wright
Posted on:
November 3, 2020
So sorry for your loss, sending love and prayers for your family. Cheri and Paul Wright
Posted by:
Suzanne Perdue
Posted on:
November 3, 2020
Joe, My heart is so sad and my mind in disbelief. You were always there for people and gave of yourself freely. My dad used to comment to me that you were a good person, had good common sense, a big heart and a wise man. You were there for my kids and I and I'm grateful for all you gave and did for us, whether it be listening, being there for Corey many times and in many ways, you and Linda bringing over a fully cooked turkey dinner after my heart surgery so we could have a nice meal together on Christmas Day, having me ride in the front of your Mustang with my leg up on the windowsill going up to Hampton Beach, after I had knee surgery, that car was fun! From replacing my sink with Stephen, letting us borrow a truck for moving, being a best friend to Chris, you came to Corey's Life Boy Scout award ceremony and supported him. You would always ask about and where(!) Brianne was as she dances around the country. You were always interested in how they and all your nieces and nephews were doing. Heck, you gave many family members jobs over the years! You met Linda through Chris and I and even though she didn't like you at first 😉 you enjoyed 39 years married, too short a time. You raised great kids and I couldn't ask for a better husband for Linda. I always thought that you two were a perfect match, together. I wanted the same godparents for my 4 kids and chose you. I remember you holding my kids, especially my twins Lindsay and Kristin and seeing them disappear into your arms! My kids loved you and looked to you as a father figure. You always cared about us, we felt it and it made a difference. You were a gentle giant. I am forever grateful for the sacrifices you made, having a fairly new small business, so we had health insurance to have our kids. That made it possible. To Linda, Stephen, Michelle, Laura, Sarah, Sean and Grace, and spouses, I'm sorry for your loss. His influence and his love will always surround you. I will miss you, Joe. You were a great role model and made a difference in many lives, including ours. Thank you, Joe. Until we meet again...well done. (Remember to give my brother George a kick in the ass when you see him! All your pets and Princess will be wagging their tails when they see you!)
Posted by:
Alison, Taylor, and Madi Courtois
Posted on:
November 3, 2020
We are so sorry for your loss. You are in our thoughts. Sending love and hugs to all of you.
Posted by:
Chris & Karen Perdue
Posted on:
November 3, 2020
Our sincerest condolences to the entire Kenney family as well as all the extended families. Joe was a highly successful business owner who succeeded, because he did things the right way! His heart was huge and we're sure he'll be there for his wife Linda, and each of his kids, Steve, Michelle, Laura & Sarah in everything they do! Joe's forever smile, wit and a keen sense of problem solving set him apart! Joe never really put himself first. He was the sweetest giant! Joe would make you look silly from the pitcher's mound, roll over you on a football field, but his family is his one true love! Rest in eternal peace! We will see you later Joe! We love you!
Posted by:
Rita wilson
Posted on:
November 3, 2020
Dear Linda Stephen ,Michelle ,Laura ,Sarah ,Sean, Aunt Grace and families. Our deepest condolences for your families loss. Words cannot begin to express our sorrow, we are so saddened to hear about cousin Joe. May you all find comfort by the ? love that surrounds you at this time of great loss. Your spirit will remain within us Joe With love Rita&Neil, Brittany, Courtney
Posted by:
Tom & Dianne Sarcino
Posted on:
November 2, 2020
Linda & family..we are so saddened by the news of Joes passing...we always enjoyed his company when he came to visit us in Canada...he had a great sense of humor...always concerned about family...he will be forever missed..all our Love and thoughts are with you...Tom & Dianne Sarcino XOXO
Posted by:
Brian Aucoin
Posted on:
November 2, 2020
Dear Linda, Denise and I were so sad to learn of Joe's passing. Rest in gods arms joe until we all meet again