Print Friendly Version
Check your settings when you are happy with your print preview press the print icon below.
Show Obituaries Show Guestbook Show Photos QR Code

Print
July 7, 1926 - March 1, 2020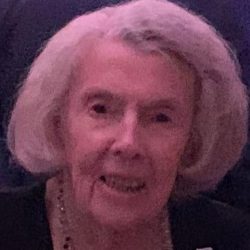 Visitation: Thursday, March 12th 4:00-7:00 p.m. Chesmore Funeral Home of Holliston
Memorial Service: Has been canceled 

Add A Condolence / Photo Album
Posted by:
Cindy Merritt- Johnston
Posted on:
March 18, 2020
Was so sorry to hear of Mrs. Foster's passing. She was my mother, Thelma's best friend when they were growing up in Rossway and that friendship continued for a lifetime. The many visits over the years are fondly remembered. Our condolences to her family.
Posted by:
Debra Blenkhorn
Posted on:
March 16, 2020
Clytie Foster was a wonderful lady. Having known her and he dear husband Bob for over 40 years this couple was like no other. The love they shared was incredible. She is now with her husband again. I send my deepest sympathy to the entire Foster family. May all those great memories hold dear. See you on the other side one day Clytie... Rest in Peace...
Posted by:
Robert Buckland-Nicks
Posted on:
March 11, 2020
This is very sad news, she was as dear a friend as I had in Bear River and I will miss her as much as anyone I have ever known.She was a wonderful writer and a passionate artist ,scouring beaches for just the right weathered natural to assemble and weave into her own whimsical sculptures.I loved having her work at The Flight of Fancy.She was a star at the Quarry meetings and having grown up on Digby Neck she had much to say about the potential destruction of her childhood sanctuary. Most of all I will miss our hugs and holding her tiny self in my arms. It was my absolute honour to know and hold such a unique and gentle woman I love you Klytie and you are surely in Heaven looking down on us all. Rob xxoooooo
Posted by:
Grant and Cindy Alcorn
Posted on:
March 10, 2020
Many memories have flowed around me as I remember this wonderful lady. Condolences and prayers are sent along and since she was a fellow muse writing about life but much better then I will ever be. In her memory I leave these words. The Journey Grant Alcorn. March 6, 2020 Memories come now through the haze of winter sand whipped by a storm. News has reached me. Grace and wisdom has suffered loss as part of its face smiles no more. When did I meet this part of life's beautiful display? I cannot state a date because this journey knews no set days. All I know now is the beauty of the memories that remain. Clytie, of seeing your smile and seeing so clear another image of your sister so dear to me as she was for you through the years. Renewing the story in different places through the years I am reminded of that gentle smile that said I have much to share and a laugh to as we venture there. Though Marshalltown was not your home I think Clytie you might have agreed as you told me of the dock, that man in uniform and some of the days you did see. That when one reclined on the lawn on the slope in front of the house at the close of the day. Looking across the fields to the hills so near and green yet speaking of times now far away. Or drinking in the view from a walk to the hilltop up from the house of the valley or the bay that beckoned with white capped waves That in the unspoken, words would speak of this time that we have to live and the peace that we can find if we stop, look around, to reach out and receive. As the mind recalls that evening of your New River travellers stay, or plants itself amidst the beauty of Rossway, Digby and out Marshalltown way. Clytie….. This flower who gazed upon the sun so the Greeks did say.. And now climbing heavenward sees the beauty of Jesus Christ the Son face to face. Clytie though your journey has moved heaven ward to where the light does always shine I shall see you as I remember these places and keep adding words to the unfolding earthly lines. Until our words join together again in the land that is beyond time. Grace and Peace as one remembers Grant Alcorn
Posted by:
Susan Stanovich
Posted on:
March 9, 2020
My sincerest condolences to Clytie's cherished family. Their loving presence and constant support eased her mind, especially at the end of her life. I had the honor of helping to care for her in the last months of her life. I grew to love her as a valued friend, and I miss her. I will never forget her. Clytie was a gentle, loving soul whose loss will be deeply felt by so many.
Posted by:
Ron and Carlene Parks
Posted on:
March 4, 2020
Our sympathy and Prayers to Clytie's family. A valued and loved member of our community here in Bear River Nova Scotia. We will miss her as a neighbor and member of our church. We were always happy to see her on her summer visits, our Florida get togethers and the overnight hospitality she showed us on our trips south. A kind and gentle soul that showed a generous Christian spirit to everyone. Rest in Peace Our Dear Clytie.