Print Friendly Version
Check your settings when you are happy with your print preview press the print icon below.
Show Obituaries Show Guestbook Show Photos QR Code

Print
November 24, 1957 - October 25, 2021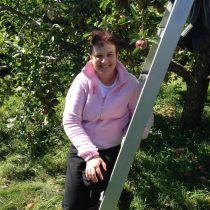 Visitation: Monday, November 1st 4:00-7:00 p.m. Chesmore Funeral Home of Holliston
Funeral Mass: Tuesday, November 2nd 10:00 a.m. Our Lady of Fatima Church, Sudbury
Share your Memorial with Family & Friends
On October 25, 2021, just after midnight, as the rain fell hitting the autumn leaves on the trees outside her window, Cecile (Donahue) Goodwin, 63, took her last breath with her daughter by her side. After 24 long years, Cecile was finally healed of her wounds and relieved of her pain to peacefully transition home with God. She was an inspiration to many as she quietly and seemingly fearlessly fought breast cancer for so long, beating the odds time after time. Cecile was born in Springfield, MA, on November 24, 1957, to her parents, Lucille and Charles Donahue.
Cecile grew up in Sudbury, MA where she graduated from high school in 1975. She attended Framingham State College, graduating with her Bachelor's Degree in Economics in 1979. Her real passion was for the arts. Cecile took classes learning how to make her own jewelry and she would later go on to bead her own wedding dress. She learned her love for dance at a young age attending the Boston Ballet School along with her sister, Denise. While Cecile liked ballet, she loved ballroom dancing. She competed in pro-amateur competitions in her 20s-30s, traveling as far as Montreal for La Classique du Quebec.
After Cecile graduated from college, she moved to Nashua, NH and worked for Sun Life of Canada. During this time, she met her late husband, the love of her life, Robert Goodwin. If you asked her to tell the story about how they met, she would say, "I went on a blind date that went really well." When you hear Whitney Houston's "I Wanna Dance with Somebody (Who Loves Me)", think of Cecile dancing the night away on her first date with her soul mate. After they married, Cecile moved to Colchester, VT where she resided for 26 years. During those years, she worked as a Computer Programmer for nine years at Green Mountain Power.
On May 29, 1994, Cecile fulfilled her dream of becoming a mother. She gave birth to her only child, a daughter named Cayley. Cayley was the light of her life, a blessing, filling Cecile's life with so much love and purpose. After Cecile's husband, Robert, passed away suddenly when Cayley was 15 months old, an inseparable bond was formed between mother and daughter. They were best friends. Many would come to envy how close they were, how they were always there for each other through any endeavor. Cecile stayed at home for a few years while Cayley was younger and then went back to school taking classes at Champlain College and online. Eventually, she became a Medical Coding and Billing Specialist working for University of Vermont Medical Center. She worked there up until she had a recurrence in 2013 that ultimately lead to a diagnosis of metastatic disease. Prior to this recurrence, she was in remission for 13 years.
Cecile worked part time at Marshall's while undergoing treatment until she could no longer stand for long hours. She retired and moved to Bellingham, MA in 2016 to be closer to her daughter and sister, and to pursue treatment at Dana-Farber Cancer Institute. Cecile fought until the very end. When she learned that the end was more than likely near, she said, "Well, I am going to give it all I've got." And she did. Cancer took a lot of things away from Cecile: her independence, her comfort, her time, but it never took her peace or positivity, or her beauty. Cecile always had beautiful light blue eyes, but her true beauty radiated from within. She had a kind, loving, gentle soul and always maintained a positive attitude throughout every adversity she encountered. Cecile embodied the meaning of resilience. Her upbeat spirit will be missed by the many who adored her, but will live on in the hearts of those closest to her. 
Cecile is survived by her devoted daughter, Cayley Goodwin, her boyfriend, Zachary Hanney, and their golden retriever, Maple; her sister, Denise Krot-Nowak and her children, Jessica (Krot) Brown and Nicole Nowak; her brother, Robert Donahue and his children, Robert and Chris; her brother-in-law Russ Goodwin, his wife Terri, and daughter, Robin; her sister-in-law Leslie (Goodwin) Callahan, her husband, Tom, and their children, Kelly (Callahan) Pelc, Jamie, Shaun, and Ryan; sister-in-law Meredith (Goodwin) Neary and her husband, Mike; sister-in-law Valerie (Goodwin) Funk, her husband, Dan, and their children James and Greg; and loving cousins and friends. She is predeceased by her husband, Robert Goodwin; her mother, Lucille (Lemaire) Brandon and stepfather, Wilmer Brandon; her father, Charles Donahue; and her father-in-law and mother-in-law, Hubert and Janet (Bauer) Goodwin. 
Cecile's family would like to thank Dr. Mona Kaddis, her nurse Nicole, and all of the staff at Dana-Farber in Milford, MA for their outstanding and compassionate care over the last five years; the Salmon Hospice team for helping to keep Cecile comfortable at home for as long as possible; the Milford Regional Medical Center fourth floor nurses and social worker, Denise, for attending to Cecile's needs and advocating for her best interest; and the wonderful team of doctors, nurses, chaplains, and social workers at the HopeHealth Hulitar Hospice Center in Providence, RI for recognizing how special Cecile is and for caring for her like one of their own in her final days. 
Visitation will be held on Monday, November 1st from 4-7p.m. at the Chesmore Funeral Home of Holliston, 854 Washington St. A funeral mass will be celebrated on Tuesday, November 2nd at 10:00 a.m. at Our Lady of Fatima Church, 160 Concord Rd. Sudbury. In lieu of flowers, gifts may be made to Dana-Farber Cancer Institute in memory of Cecile Goodwin to support cancer research and patient care at:  Dana-Farber Cancer Institute P.O. Box 849168 Boston, MA 02284 Or via www.dana-farber.org/gift/