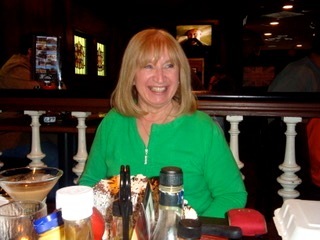 October 16, 1940 - May 7, 2019
Visitation: Thursday, May 16th 2:00 – 3:00 p.m. Chesmore Funeral Home of Holliston
Memorial Service: Following visitation at 3:00 p.m. in the funeral home
Burial: Friday, May 17th 11:00 a.m. Notre Dame Cemetery, Fall River, MA
Holliston-
Claudette J. (Springer) Edwards, 78, of Holliston, passed away Tuesday, May 7, 2019 at Countryside Healthcare in Milford. Born in Fall River, MA, she was the daughter of the late Beatrice (Yokel) and Manuel M. Grillo.
As a travel agent, Claudette was genuinely excited to help clients because she knew the joy of travel herself. Whether a trip through New England with family, a Caribbean cruise, or a tour of England with friends, she found the world to be an interesting place.
Claudette lit up a room with her striking blue eyes and bright smile. Whether at home or out for the evening, she loved listening to music of many genres, and even more so, she loved to dance. As a young woman, she was a jitterbugging gal, and well into her 7th decade, she loved that old time rock 'n roll.
Claudette is survived by three children, Karen Springer of Boston, Kevin Springer and his wife, Deborah of Raleigh, NC, and Joseph E. Springer III and his girlfriend, Courtney Sylvester of Hopedale. She also leaves behind her siblings, Martha Furtado and her husband, Gabriel of Somerset, MA, Eileen Desforges and her husband, Paul of Rochdale, MA, Anne-Marie Grillo of Fall River, MA, and Judith D. Grillo of Easton, Maryland. She is predeceased by two brothers, Dennis and Kenneth Grillo. Claudette will be sorely missed by her only grandchild, Matthew Springer of Raleigh, NC, as well as several nieces, nephews, great-nieces, great-nephews, and many dear friends.
Visitation will be held on Thursday, May 16th from 2:00-3:00 p.m. at the Chesmore Funeral Home of Holliston, 854 Washington St. (www.ChesmoreFuneralHome.com). A remembrance service will follow visitation in the funeral home at 3:00 p.m. Prayers and interment will be held on Friday, May 17th at 11:00 a.m. in Chapel One of the mausoleum at Notre Dame Cemetery in Fall River, MA. In lieu of flowers, donations may be made to the Holliston Pantry Shelf (HollistonPantryShelf.org), the Holliston Senior Center Gift Fund (TownofHolliston.us/SeniorCenter), or Our Space for Kids (OurSpaceRocks.org).