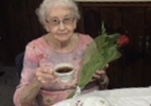 May 13, 1926 - April 1, 2019
Visitation: Sunday, April 7th 4:00-6:00 p.m. Chesmore Funeral Home of Holliston
Funeral Mass: Monday, April 8th 10:30 a.m. St. Mary's Catholic Church of Holliston
Burial: Following mass in NEEDHAM at St. Mary's Cemetery, 57 Wellesley Ave, Needham
Holliston-
Therese G. Rouse, 92, of Holliston passed peacefully on April 1, 2019 at Timothy Daniels House in Holliston after a long illness.  Born in Needham, she was the daughter of Martha Lovisa (Lane) & James Francis Doyle of Needham, MA.  She was the wife of the late Arthur Rouse.
She lived in Newton during her childhood and attended Newton High School. After high school, she joined the Elsie Janus Drum & Bugle Corp. with her sister Louise. She worked for many years at Haartz-Mason Manufacturing Co. As Human Resources Manager. Therese was an active member of Corpus Christi Catholic Church in Auburndale MA, serving as Eurcharistic Minister, choir member and CCD teacher.  After retiring in 1991, she enjoyed travelling with her cousin Barbara, Therese moved to Holliston, MA in 1993 where she joined St. Mary's Catholic Church.  She volunteered at the Holliston Senior Center and worked for Bay Path Elder Services. She was an active member of the resident association at Mission Springs housing, participating in planning of social events.
Therese was predeceased by her parents, her husband and her siblings: Mary Grusy of Eureka IL, James Doyle of Newton, MA, Martha "Louise" Woodworth of Holliston, MA and 3 half-siblings. She is survived by 3 cousins: Barbara Vlass of Natick, MA: Virginia Dolph of Newton, MA; Robert Masse of Bedford, NH; Frank Lane of Woburn, MA; Martha Sonnier of Lousiana.  Nieces and nephews: Ruth McCarthy of Indian Trail, NC; Steve Doyle of Jamiaca Plain, MA; Ellie Stackpole of Holliston, MA; Larry Woodworth of Downingtown, PA; Mary Moody of Merrimack, NH; Nanci Irving of Holiday, FL; Betty Miller of Spokane, WA; Bob Grusy of Tuscon, AZ; Judi Berman of Rodeo, CA; John Fleming of Milford, MA and Paul Fleming of Waltham, MA and many great and great-grand nieces and nephews throughout the world.
We will always remember her as the life of the party. She was a self-taught pianist who lead sing-alongs with us on every occasion.  She hosted holiday parties and planned large family reunions.  During her last years at Timothy Daniels House in Holliston, she entertained us with fascinating stories of her adventures.
Visitation will be held on Sunday April 7th from 4:00-6:00 p.m. at the Chesmore Funeral Home of Holliston, 854 Washington St. A
Funeral Mass will be celebrated at 10:30 a.m. on Monday, April 8th at St. Mary's Catholic Church, 708 Washington St, Holliston, MA followed by Christian Burial at St. Mary's Cemetery, 57 Wellesley Ave, Needham, MA. In lieu of flowers – donations to the Timothy  Daniels Activity Fund l, 84 Elm St. Holliston, MA 01746, will be greatly appreciated.