Print
September 3, 1937 - July 16, 2017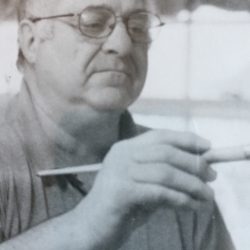 Visitation: Wednesday, July 19th 4:00-7:00p.m. Chesmore Funeral Home of Hopkinton
Funeral Home Service: Thursday, July 20th 10:30a.m. Chesmore Funeral Home of Hopkinton
Burial to follow service in Mt. Auburn Cemetery, Hopkinton
Hopkinton-
William H. Robinson III, 79, of Hopkinton, passed away Sunday, July 16, 2017. Born in Boston, he was the son of the late Isabel (Paz) Robinson and William H. Robinson II. He was the husband of Eleanor (Knoll) Robinson of Hopkinton.
Bill graduated with a BFA in 1959 from Boston University. During his time at BU he was a member of the BU Soccer team and BU Choir. He also enjoyed his time spent as a member of the Boston Ramblers Soccer Semi Pro team. Bill was a past President of Watertown Art Association, past President of the Framingham Art Association, a member of Rockport Art Association, Cape Cod Art Association, Boothbay Art Association, Franklin Art Association, and Westboro Art Collaborative. He was an Art instructor Hopkinton Adult Education Program and an Art instructor at the Hopkinton Senior Center.
Bill was in the U. S. Air Reserve. He had been the owner of Robinson Associates for 25 years and had also worked for Rustcraft Greeting Cards in Dedham and Cohen and Kelly Advertising Associates in Manchester, NH. Bill was the founder and coach of Hopkinton Youth Soccer and a member of the founding committee of Polyarts. He was a past President of Hopkinton Kiwanis, a member of the Hopkinton Chamber of Commerce and a member of the Framingham Men of the 200. Bill also took great pleasure in golfing.
Besides his wife, Bill is survived by two children, Jonathan Neil Robinson and his wife Pennie of Grafton, and Christian Robinson Cady and her husband Sean of Walpole . He also leaves behind four grandchildren, Nathaniel and Charlotte Robinson and Devin and Jack Cady.
Visitation will be held on Wednesday, July 19th from 4:00-7:00pm at the Chesmore Funeral Home of Hopkinton, 57 Hayden Rowe St. www.ChesmoreFuneralHome.com A funeral home service will take place on Thursday, July 20th at 10:30a.m. at the Chesmore Funeral Home. Burial will follow in Mt. Auburn Cemetery in Hopkinton. In lieu of flowers, donations may be made to Hopkinton Friends of the Seniors, 28 Mayhew St. Hopkinton, MA 01748.