Print Friendly Version
Check your settings when you are happy with your print preview press the print icon below.
Show Obituaries Show Guestbook Show Photos QR Code

Print
December 14, 1968 - October 18, 2018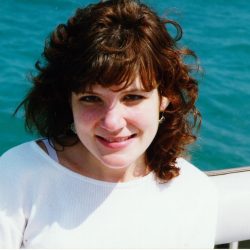 Visitation: Monday, October 22nd 4:00-7:00 p.m. Chesmore Funeral Home of Hopkinton
Burial will be held privately at a later date

Add A Condolence / Photo Album
Posted by:
Good Samaritan
Posted on:
October 25, 2018
To the family, I would like to send my warm Christian Love and Condolences I also would like to share with you a comforting Promise that is found in God's word the Bible. At Matt 6v10, Jesus prayed that SOON God's Kingdom will rule over mankind and under that Kingdom NO residence will NEVER AGAIN say…I AM SICK (Isa. 33v24) Our Dear Love Ones will have the hope of a Future RESURRECTION (John 5v28,29) That will restore them to the days of their Youthful VIGOR! (Job 33v25) They will be able to enjoy this Earth FOREVER in the Abundance Of PEACE!(Psalms 37v11,29)
Posted by:
LJ
Posted on:
October 22, 2018
No loss is simple. We may search for true comfort, but it is hard to find. There is hope, and comfort from God. John 5:28,29: "Do not be amazed at this, for the hour is coming in which all those in the memorial tombs will hear his voice and come out..." Those who have died are in Gods memory, they have the prospect of being brought back to life. Not only will God comfort us now, but he will provide a resolution in the near future that will reunite us with those we have lost. Please accept my sincere condolences at this difficult time.
Posted by:
Kiki & Marcello DeMello
Posted on:
October 21, 2018
To Michael, Max, Taylor, Ryan and Anna. Our hearts are heavy today. We hope that the Lord brings you and your family the much-needed peace during this sad time. Our condolences to you and your family. Marcello & Kiki DeMello
Posted by:
Teresa
Posted on:
October 20, 2018
To Mike, Taylor, Max, Ryan, Anna, Mike, Andy and Mrs Smith. My heart breaks for all of you. She was one of the kindest people I have ever known. My childhood was one great memory because of our good times. She was a fantastic mom and wife. I wish I could've seen her more often the past few years. Forever in our hearts.
Posted by:
Matthew Ash
Posted on:
October 19, 2018
Michael - Thinking of you and the kids today. My heart breaks for you and your family. Please know that you have the love and support of your entire CVS family. Matt