Print Friendly Version
Check your settings when you are happy with your print preview press the print icon below.
Show Obituaries Show Guestbook Show Photos QR Code

Print
May 29, 1934 - November 29, 2018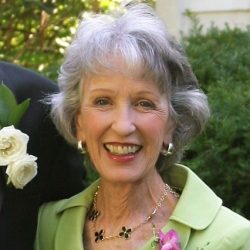 Visitation: Friday, December 14th 5:00-7:00 p.m. 
Funeral Mass: Saturday, December 15th 9:00 a.m. St. Mary's Church of Holliston

Add A Condolence / Photo Album
Posted by:
susan emra butka
Posted on:
December 11, 2018
Dear Chris, I was so sorry to hear about both your dad and mom. This must be a very difficult time for you all and I just wanted to reach out and tell you how sorry I am! I remember your mom being such a lovely person! They both raised such a wonderful family! Please know I\'m thinking of you all! Sincerely, Sue
Posted by:
Dick & Janet Pearl
Posted on:
December 11, 2018
Please accept our condolences. We were shocked to learn of your mother's passing so soon after your fathers. No words can express the sorrow you must all be feeling. We knew your parents only a short time but always enjoyed talking to them; they were a wonderful couple.
Posted by:
Cindy Boyer
Posted on:
December 6, 2018
I'm very sorry for the loss losses of your beloved Mother and father, and although I don't know you, please accept my deepest sympathy. May you find comfort in knowing that our loving God doesn't cause sad things to happen to those we love, as James 1:13 assures us. Ecclesiastes 9:11b explains unexpected deaths by saying that "time and unexpected events (Or, "unforeseen occurrence") overtake them all." Revelation 21:4 promises the time when "death will be no more, neither will mourning nor outcry nor pain be anymore." And Job 33:25 tells of the time when older ones will become young again! These verses are among those that continue to help me in the losses of my beloved Mom and Dad and my beloved youngest brother, and I hope that you will find some added comfort in them too. Please look at the web site JW.ORG as more comfort can be found there. Romans 15:4, we find comfort in the Scriptures. Take care, Sincerely, Cindy Boyer
Posted by:
Cheryl Waugh Dymek
Posted on:
December 4, 2018
Dan and Faith so sorry to hear about your mom I know it must be hard with just losing your dad as well know that I'm thinking of you guys at this time and send my deepest sympathies