Print
July 16, 1996 - June 14, 2018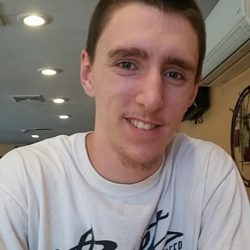 Visitation: Tuesday, June 19th 4:00-7:00 p.m. Chesmore Funeral Home of Hopkinton
Graveside Service: Wednesday, June 20th 11:00 a.m. Evergreen Cemetery, Hopkinton 
(Friends & Family are invited to join at the funeral home at 10:00 a.m. to follow in procession to the cemetery)
Hopkinton-
Jeffrey Paul Leal, 21, of Hopkinton, passed away at his home on Thursday, June 14, 2018. Born in Framingham, he was the son of Rachel D. (Dyer) and Gregory C. Leal of Hopkinton.
A lifelong Hopkinton resident, Jeff was a 2014 graduate of the Welding program at Keefe Tech in Framingham. He was athletic and funny and enjoyed skiing, vacationing in Maine, fishing, hunting and loved watching the Patriots.
Besides his parents, he is survived by his longtime girlfriend, Stephanie Kimball of Ayer; his brother, Joshua Leal and his partner, Kayla Anderson of Hopkinton; as well as several aunts, uncles and cousins.
Visitation will be held on Tuesday, June 19th from 4:00-7:00 p.m. at the Chesmore Funeral Home of Hopkinton, 57 Hayden Rowe St. www.ChesmoreFuneralHome.com A graveside service will take place on Wednesday, June 20th at 11:00 a.m. at Evergreen Cemetery, Hopkinton. Friends and family are invited to join at the funeral home at 10:00 a.m. to follow in procession to the cemetery. In lieu of flowers, donations may be made to New Beginning Wellness Program, P. O. Box 3209 Framingham, MA. 01705 or nbprograms.com