Print
August 5, 1919 - April 16, 2017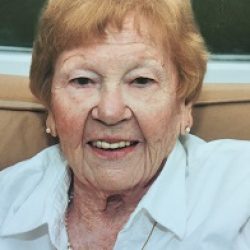 There will be no visitation
Funeral Mass: Thursday, April 20th 11:15a.m. St. Patrick's Manor, Framingham
Burial: Friday, April 21st at Cemetery of the Holy Rood, Westbury, NY
Framingham-
Eileen V. Piemonte, 97, of Framingham, passed away Saturday, April 16, 2017. Born in Jersey City, NJ, she was the daughter of the late Mary Jane and Patrick O'Leary. She was the wife of the late Anthony J. Piemonte who passed away in 1972.
A graduate of St. Petersburg Jr. College in Florida, Eileen had worked at Northshore Hospital in the Hearing and Speech Department. She was a member of the Catholic's Women's Guild and St. Vincent de Paul for many years.
She is survived her son Thomas Piemonte and his wife Kate of Dover; her daughter in law, Kate Piemonte of Estero, FL; four grandchildren, Meeghan, Ashley, Timothy and Ellen, as well as 8 great-grandchildren and many nieces and nephews. She is predeceased by her son, Richard Piemonte.
There will be no visitation. A funeral mass will be held on Thursday, April 20th at 11:15a.m. at St. Patrick's Manor in Framingham. Burial will take place at Holy Rood Cemetery in Long Island, NY on Friday. In lieu of flowers, donations in her memory may be made to St. Patrick's Manor, 863 Central St, Framingham, MA 01701. Arrangements are under the care of the Chesmore Funeral Home of Holliston. www.ChesmoreFuneralHome.com