Print Friendly Version
Check your settings when you are happy with your print preview press the print icon below.
Show Obituaries Show Guestbook Show Photos QR Code

Print
January 19, 1945 - September 6, 2019
Visitation: Thursday, September 12th 4:00-8:00 p.m. Chesmore Funeral Home of Holliston
Graveside Service: Friday, September 13th 10:30 a.m. Lake Grove Cemetery, Holliston

Add A Condolence / Photo Album
Posted by:
Pat forbes
Posted on:
September 22, 2019
Some people come into our lives and quickly go. Some stay for awhile and leave footprints in our hearts and we are never the same. You will be in my heart forever.
Posted by:
Christopher Davis
Posted on:
September 12, 2019
Tony I was just thinking of you last week. You were always like clockwork for your hair cut. I thought maybe being the end of summer you were lucky and took a vacation. Bring your energy and smile to the pearly gates. God Speed and sorry for everyones's loss.
Posted by:
Sharon Lambeth
Posted on:
September 11, 2019
I knew Tony through my daughter, Kelli. Nicest man I ever met. Kind, honest, smart, giving and so caring. I never worried about her being so far from Texas because Tony was just two houses down. They got along so well and he teased her unmercifully But I always saw how it made him laugh He was like her dad away from home. And maybe like a daughter he never had How I will miss going to his house with Kelli, Thanksgiving,, sitting by the water, listening to the sounds of nature, enjoying the fire, having a glass of wine. Always good times. Coming to Boston won't be the same. Some people just touch your heart in a way that you Will remember forever, that was Tony. Prayers for his family and friends whose lives he touched. Tony will be dearly missed but not forgotten.
Posted by:
John Nash
Posted on:
September 10, 2019
I first met Tony in 1969 as a young New England Telephone installer. Tony was an exceptional "telephone man" who rose up the ranks quickly. He was our guy we went to when we had technical problems that just seemed too big. As the history goes, 1970 was my first winter as a technician and, because of work being slow, Tony was assigned to an outdoor crew doing recon work in the back alleys of Back Back. I was fortunate enough to be on his crew and boy did he work hard and expected us all to follow his lead. I worked on and off with Tony at New England Tel for 10 years and his leadership and knowledge was always appreciated. He was always there to help. I left New England Tel in 1978 to move to Houston and Tony continued at New England Tel and climbed the ladder to management. Fast forward to 2016. I was living in Houston, Texas and I started working at Procter & Gamble in the Procter & Gamble Professional (PGP) unit. That first month, as an employee of "PGP", I started getting the usual barrage of corporate emails that everyone gets and noticed in the "TO" box the name "Anthony Alessi" as one of the intended recipients. Shocked, but in a pleasant way, I immediately reached out to Tony and asked him if he was the same Tony Alessi that I worked with all those many years ago. We reconnected after 45 years! In the past 4 years, Tony was always there to get me through some work issues. He always took my bi-weekly calls and always kept me up to date with what was going on back home in New England. We talked sports, work, fishing, old co-workers, the "old days" at New England Tel and getting old. Two weeks ago was the last time we talked. He predicted another superbowl win for the Pats. He always ended every call with the words "it's always a pleasure to hear from you and I always enjoy the memories". Tony it will always be a pleasure for me to have gotten to know you again and the memories will never die!!! I am already missing talking to my old buddy. My sincerest condolences to his whole family and those who he meant so much to.
Posted by:
Lisa Pompeo
Posted on:
September 10, 2019
My deepest condolences to the whole Alessi Family.."Big" Tony was always so fun to talk with whenever our paths would cross at family functions. I will miss his smile and his laughter. I could always tell that he loved his family. It should every time he looked at his kids or grand kids. You will be missed. Lisa
Posted by:
Murray boys
Posted on:
September 9, 2019
Best Uncle Dad ever!
Posted by:
Mary Anne Barracoso, P&G CC
Posted on:
September 9, 2019
It was with great sadness that we learned of Tony's passing. I am honored and blessed to have worked with him. He was one of our best P&G Team Leader and we will miss him. Our deepest sympathy and prayers to the whole family.
Posted by:
Gloria Forbes
Posted on:
September 9, 2019
My deepest condolences go out to the entire Alessi family. Tony was always kind and generous to our family...especially my Mother and Sister. I will forever be thankful for his support through some of the toughest times of our life and whenever he was asked to help in any way it was always "No problem!". He loved to dance and have fun and I pray that God welcomes him into his kingdom and brings peace to the families' hearts. I love you for the man you were here and now.... dance with the Angels until we meet again ??
Posted by:
Mark Hallquist
Posted on:
September 9, 2019
Please accept our condolences on the passing of Anthony Alessi. It was an honor to have known such a great person and we will truly miss him. Tony was an important and successful Team Leader for Procter & Gamble Professional organization. Look back on all the good memories you were able to have and smile at the fact that you were able to share these before he passed away. May God embrace the Alessi family in comfort during this difficult time.
Posted by:
Anonymous
Posted on:
September 9, 2019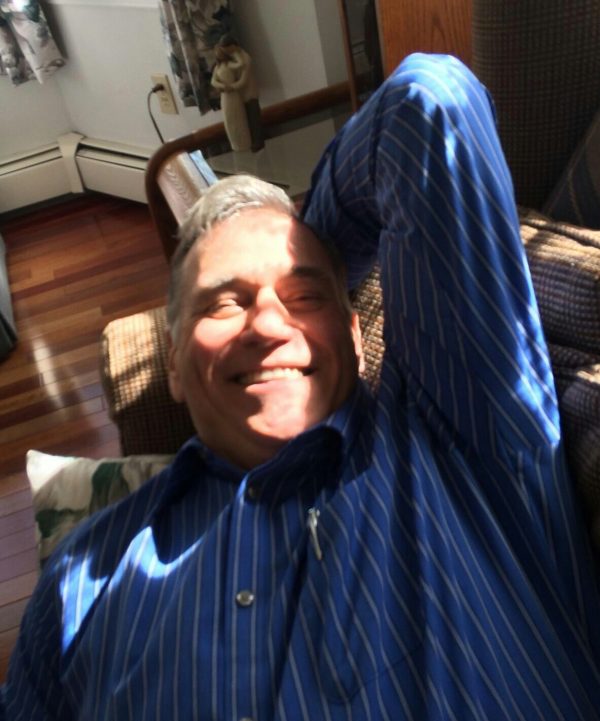 Always finding humor in every situation, that was Tony. We were on a conference call and he sent me this picture saying he was "Taking a nap".
Posted by:
Laura Ewing-Mahoney
Posted on:
September 9, 2019
We at so sorry for your loss, Steve. Your father sounds like a wonderful man. He certainly did a great job raising you. Our deepest condolences during this very difficult time. Kevin and Laura
Posted by:
John Barnard
Posted on:
September 8, 2019
One of the best bosses I ever had. He called me My Maine man John. It only took him 3 years to hire me. And it was worth the wait. Tony you will be missed. Our thoughts and prayers are with you and your family.
Posted by:
Kelli Garnhum
Posted on:
September 8, 2019
One of my favorite people in the world. He was a great man, friend, and neighbor. I always felt safe having him down the street. He taught me so much about nature and animals. He would always call me when he saw a coyote or fisher cat to let me know to get my animals in. He was always there if I needed something. He would let me come down and sit on the bench by the water when I was upset. He would always laugh at me when I came down to feed the turtle and kid me about making turtle soup. He was so special to our family. I will miss him so much. My heart aches for his family. He loved them all so much. My prayers and thoughts are with his family in this difficult time and the time to come without him in our lives.
Posted by:
Mila Latino
Posted on:
September 8, 2019
Our deepest condolences to Tony's family and friends. He was such a wonderful person loved by many. He will be missed. Thinking of you all, God Bless. Mila and Peter Latino.
Posted by:
Tracey Quintin
Posted on:
September 8, 2019
To Tony's family and friends, I'm so very sorry to hear of his passing. What a kind, caring and nice man to have as a neighbor. He will be missed. My thoughts and prayers are with you all.